Slideshow
Other top rated products
5.0 star rating
19 Reviews
Most Comfortable
Review by Carly B. on 5 Jan 2020
review stating Most Comfortable
This blanket is THE best! It has a perfect weight and is beyond soft. I don't want to share it with anyone because it is that comfortable!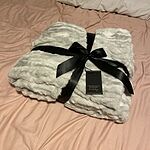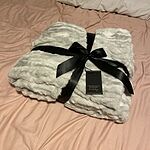 Jacquelyn C.
5 star rating
Heavenly Soft!
Review by Jacquelyn C. on 14 Jun 2020
review stating Heavenly Soft!
Oh my! Just when I thought I was satisfied with my other blankets, now I have another love in the lush blankets. This Gray Marble Lush/Minky is a beautiful color and so soft! This is going to be my winter blanket for my bed with my gray sheets and pjs. The weight is just perfect not too heavy but definitely comfortable. I can't wait for winter!!! You will truly enjoy this beauty.
Love it!!!!
Review by Ashley B. on 26 Feb 2020
review stating Love it!!!!
Love it!!!!
Comments by Store Owner on Review by Ashley B. on 26 Feb 2020
Hi Ashley,

We are so happy to hear you LOVE your Gray Marble Lush/ Minky blanket! Thanks for the review!

Love,
The Saranoni Team
Anazing Blankets
Review by Cathy W. on 5 Jan 2020
review stating Anazing Blankets
Quality and Super Plush indulgence..... now i want the king size for my bed!
Obsessed!!
Review by Becky O. on 4 Jan 2020
review stating Obsessed!!
Literally the best blanket I've ever cuddled up with. My entire family is obsessed with it.