Slideshow
Other top rated products
4.8 star rating
12 Reviews
Patricia S.
5 star rating
Gorgeous quality
Review by Patricia S. on 10 Mar 2020
review stating Gorgeous quality
This blanket is absolutely my favorite I've. Ever. Bought. In fact as a brand new customer I bought four all at once and had them embroidered with my children's names for a special holiday gift. Totally a risk I'm so glad I took and the quality surpasses even their fantastic reputation! I will say the feather color is my favorite based on color, weight and softness. We also have a eucalyptus and cream (?) color. We've washed them and hung them to dry per instructions and they wash up beautifully. They dry quicker than you'd expect and are seemingly stain resistant... my kids have been using them constantly and even got sucker stuck in one which I was able to pick out easily and washed out nicely. Still look new and we're 4 months out from purchase. My new go to luxury gift for sure.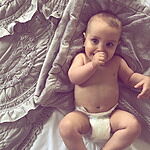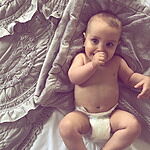 20-month-old granddaughter loves this blanket!
Review by Krista H. on 1 Apr 2020
review stating 20-month-old granddaughter loves this blanket!
I sent this personalized blanket to my daughter for her first child, a busy and beautiful 20-month-old girl. Apparently, and not at all surprisingly, she absolutely loves it!

Although the toddler-to-teen size is a bit large for her right now, she can carry it on her own. And ultimately she will be able to take it to college and still enjoy wrapping herself inside it. I chose the larger size because all 5 of my children stayed attached to their favorite blankies into their late teens/early 20s...even when those special blankets were very small. In fact, I ended up purchasing a charcoal XL lush blanket last week for my youngest, now 15, since he's already 6'3" but still enjoys wrapping (parts of) himself up in his favorite blanket while watching TV, gaming, studying, napping on a road trip or sleeping.

Back to the new feather lush toddler-to-teen blanket: whether my granddaughter is having a warm snuggle inside it with Mom and/or Dad, or dragging it around the house to maintain total control over the use of her amazingly-soft new addition to her many other toys and blankets (first grandchild/first child), for her, this blanket was love at first sight!

I chose the white embroidery, in the border, with her first name. My daughter says the white letters are crisp and clear and very complementary to the feather color. Not too light (which was my only concern). This color also coordinates well with the baby's nursery and all of their home decor. Feather is a really great addition to the Saranoni taupe, gray and ivory neutrals I have purchased in the past for gifts and for myself. This may be my new go-to neutral, when purchasing Saranoni blankets, as it blends in well with both gray- and beige-based furnishings.

These blankets are worth the price...they retain their incredible softness for years (as long as they aren't put into the dryer, or washed in bleach or fabric softener). They hold up very well in the washing machine in cold water on a delicate cycle. Even with the palest colors, stains come out with ease using regular detergent.

If you've been looking at Saranoni blankets, throws or robes and debating whether or not to buy them...just do it! You'll be thrilled with the softness and the quality and the beauty of their products. Bamboni is my personal favorite, in terms of the weight, breathability and feel of the material. The muslins are incredibly light and soft. The swirl and satins are plush and so smooth, respectively.

The only fabric I cannot speak to is the chenille. I'm sure it feels amazing. I haven't chosen to purchase a loosely-knitted fabric, only because we have 3 cats who love our Saranoni blankets as much as we do, and their claws have pulled, snagged (and ruined!) everything knitted that we already own.

The lush material, however, is as sturdy as it is soft; our cats sleep all day on top of the Saranoni lush throw blankets on our sofas and loveseats, and I don't mind at all. The cat hair washes out easily and they've made no holes or snags or damaged the lush throws in any way.

As always...10/10 rating for this new feather lush toddler-to-teen size blanket! That rating comes not only from the giver, me (Grandmommy), but also from Mommy, and most importantly from the toddler recipient who definitely makes it crystal clear what she really likes (and even more so what she doesn't)!

Thanks, Saranoni, for another fantastic product!
Most Comfortable, High Quality Blanket!
Review by Shannon H. on 10 Feb 2020
review stating Most Comfortable, High Quality Blanket!
We were gifted this blanket and are blown away by the high-quality -- I didn't think I had much of an opinion in the way of children's blankets, but this one is just so heavy and well-made, that I would definitely purchase again! The weight of the blanket is comforting and keeps my daughter from throwing it off her, as she does her other blankets. It is also extremely cozy and soft!
Best Blanket Ever
Review by Ashley W. on 24 Jan 2020
review stating Best Blanket Ever
Hands down my son's favorite blanket!!
Soft as butter
Review by Holly S. on 30 Dec 2019
review stating Soft as butter
I had no idea, how soft this blanket would be. Met and exceeded my expectation.