Slideshow
Other top rated products
4.6 star rating
5 Reviews
Fawn shade varies
Review by Claudia H. on 18 Dec 2019
review stating Fawn shade varies
The blanket itself is warm, unbelievably soft, and has good weight. The quality is there. If I had only bought the one blanket I'd give it 5 stars. However, I own an XL Fawn that I keep on a couch in my room and wanted a matching Queen Fawn for my bed. Unfortunately, the colors are significantly different. I love coordinating things, but I my plan is to have these in two separate areas of my bedroom so having the colors match was important.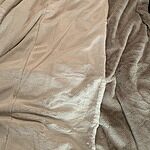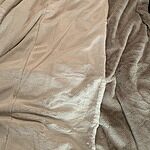 Love these yummy blankets so much!
Review by Allison C. on 7 May 2020
review stating Love these yummy blankets so much!
I am an interior designer and I love to order these blankets for my clients homes. They are so soft and inviting and allow my homeowners to feel like they are home right away!
Amazing!!
Review by Kelly R. on 29 Dec 2019
review stating Amazing!!
I have never felt a blanket this soft in my entire life!! I cant even sleep at night because I find myself petting it all night!! Haha but for real It is SO thick and beyond amazing!! #saranoniforlife
Can't sleep with anything else
Review by Brianna T. on 12 Jun 2019
review stating Can't sleep with anything else
This blanket is the most comfortable thing I have ever slept with. It is warm, and now that it is summer I sleep on top of it. It is like butter and stays soft even after heavy use. This is my second "noni" purchase after my boyfriend introduced me to Saranoni about six months ago. I could not recommend this enough. The color is a little bit darker than I thought it would be and is more tan than gray, so if you are looking for a super light colored blanket I'd go with the white. I got the pillows to go with it, and let me tell you, I am sleeping like a QUEEN.
Sooooo soft!!
Review by Melinda L. on 13 Apr 2019
review stating Sooooo soft!!
Amazing quality! Unbelievably soft. However, it is very heavy so keep that in mind.