Slideshow
Other top rated products
5.0 star rating
13 Reviews
Samantha J.
5 star rating
Absolutely beautiful!
Review by Samantha J. on 21 Jun 2019
review stating Absolutely beautiful!
These blankets are hands down the best quality you can get in a blanket this material. My babies absolutely love and sleep so much better with the weight of it on them. Highly recommend!!! Got them for my twins and we already ordered more!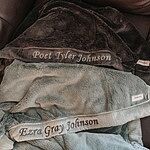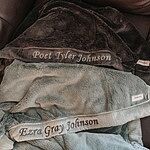 Love these blankets SO much!
Review by Kim L. on 13 Feb 2020
review stating Love these blankets SO much!
I buy them for every baby shower and I have bought one for every friend, every person in my family and every person in my extended family, for birthdays and Christmas. I can't get enough.
Love love love!
Review by Briana O. on 28 Jan 2020
review stating Love love love!
I originally purchased a lush blanket for my son and have now made it my go to gift for new babies! I've ordered several colors, all embroidered, all different fonts and have been impressed each time! They are gorgeous, soft and perfect every time! I just received my 7th blanket this year ( so many new babies) and it came in 4 days! Will always recommend!
Comments by Store Owner on Review by Briana O. on 28 Jan 2020
Hi Briana,

Thanks so much for the review! We are happy to hear you have loved your purchases with Saranoni. We hope we can continue to provide you with great quality blankets.

Thanks Again!
The Saranoni Team
Incredibly Well Made Blanket
Review by Shelby W. on 13 Jan 2020
review stating Incredibly Well Made Blanket
I have 3 daughters and a husband and between us 5 we have had 9 "minky" blankets from a different company. I decided to go with Saranoni for my sons (due in February) blanket because they're cheaper but everyone swears they're just as soft ... and oh my goodness. My mind is blown! This charcoal lush blanket is SO SOFT I can't put it down! I cannot wait to snuggle my little guy in it next month. Also, the embroidery with his name is just beautiful. The color of the stitching is exactly what I was wanting and it's all just done so incredibly well. So happy to spend my dollars here!
Beautiful
Review by Mary H. on 11 Dec 2019
review stating Beautiful
LOVE this blanket for our little guy. It's comfy and cozy and keeps him plenty warm at night.