More beautiful that I even thought!
Review by Jadee M. on 19 May 2019
It took me forever to decide what size of blanket I wanted for my little girl who isn't even born yet. I finally decided on the ballet slipper in receiving size and oh my goodness it is magical! Pictures show it's beauty but in real life it's even better! This is a one of a kind blanket that I know my daughter will keep forever!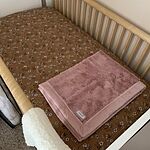 The softest blanket!
Review by Alina H. on 30 Oct 2019
We are in love with the new receiving blanket! I cannot wait to use it on my baby girl when she is born!
Perfectly Pink
Review by Brenda B. on 27 Oct 2019
Love these blankets for baby gifts!
Great Gift
Review by Jordan H. on 7 Oct 2019
I sent this gift to a former co-worker to celebrate the birth of his new baby. They absolutely love it and being pregnant myself, I can't wait to order a few of these for my little guy!
Madeleine R.
5 star rating
Obsessed with these, have 10+
Review by Madeleine R. on 4 Oct 2019
Obsessed with these, have 10+ fog my kids!